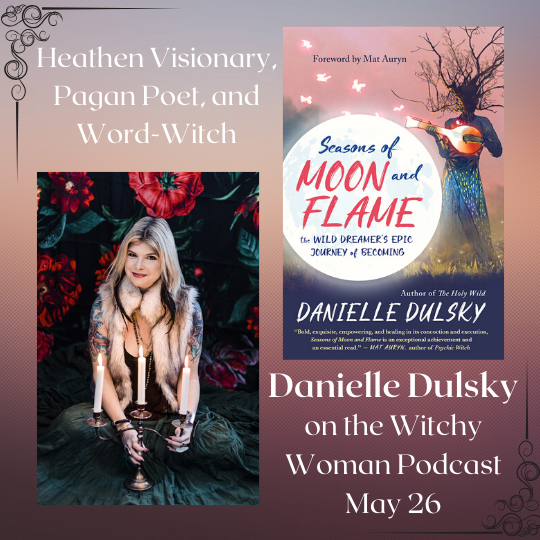 Danielle Dulsky - Seasons of the Moon and Flame
I am SOOOOO excited to bring you this interview with wild wolf woman herself, Danielle Dulsky.  She is a heathen visionary, pagan poet, and word-witch.  The author of Seasons of the Moon and Flame, The Holy Wild, and Woman Most Wild, she teaches internationally and has facilitated circles, communal spell-work, and seasonal rituals since 2007.  She is the founder of The Hag School and believes in the emerging power of wild collectives, cunning witches, and rebellious artists in healing our ailing world.
Find her online at www.DanielleDulsky.com 
Danielle Dulsky on Social Media:
Facebook: https://www.facebook.com/WolfWomanCircle/
Instagram: https://www.instagram.com/wolfwomanwitch/
LinkedIn: https://www.linkedin.com/in/danielle-dulsky-61969712a
Twitter: https://twitter.com/WolfWomanWitch
Join the WW Coven 
Join the coven to get access to our new Classes in the WW Coven Group! Classes are started but it is not too late! Check out all the info at the link below! 
Join our online coven here: www.patreon.com/witchywomanpodcast
Social Media Contact
 Facebook: https://www.facebook.com/Witchy-Woman-Podcast-1262580323895712
 Facebook Group: https://www.facebook.com/groups/witchywomanfriends/
 Instagram: https://www.instagram.com/witchywomanpodcast/
 Twitter: https://twitter.com/DaNae_Sweet_
 Snail Mail: to DaNae Sweet PO Box 333 Hyannis, NE 69350
Play Now